Cleansing/Double cleansing
Posted By: Orloff Spa Experts Times Read: 378 Comments: 2
Dear readers, today we are going to discuss such important skincare routine step as cleansing, what is double cleansing and its benefits. Also, more importantly, how to choose your cleanser out of millions of products?
A common benefit of facial cleansing is removing oil, polluters and products from metabolism like dead cells and sebum from our face. In addition, cleansing helps boost hydration, especially when using probiotics.
Dirt buildup on the surface of the skin can cause blockages of the pores, which allows the generation of bacteria in our skin and cause inflammations and acne.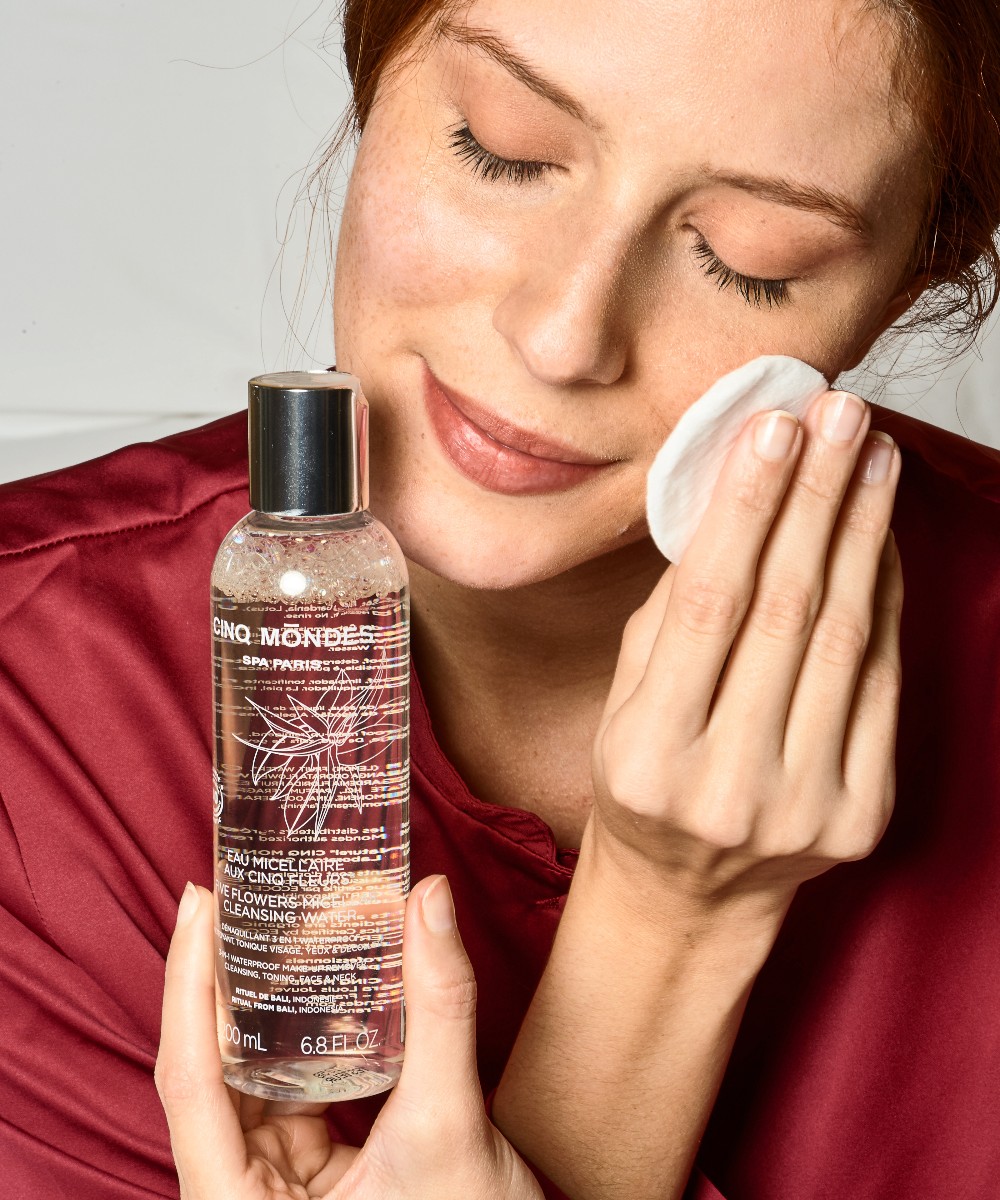 Cleansing rules:
Do double cleansing: remove the makeup first with micellar water or other makeup remover (You may use Five Flowers Micellar Cleansing Water by Cinq Mondes as a makeup remover) and then wash your face with a cleanser that can be rinsed
In the morning choose cleansers with lighter texture (foams, gels)
At night use softer or creamy textured cleansers, for example cleansing milk that respect a thinner skin type.
Why not use one cleanser for all occasions? In the morning, our skin is not very dirty from a night's sleep, so we need something refreshing, smoothing and hydrating. Especially if you use makeup after all the steps of the routine, make up will be layered more smoothly. However, at night, it is recommended to use cleansers with a richer texture, in order to properly remove all the dirt and makeup, and hydrate the skin
Choose a cleanser according to your skin type:
Foaming cleansers: oily and combination skin types, which can be acne-sensitive (Flowers Cleansing Mousse by Cinq Mondes)
Gel cleansers: normal, combination or oily types of skin that are more sensitive to acne and redness
Creamy and lotion cleansers: normal, dry and sensitive skin (Flowers Cleansing Balm by Cinq Mondes)
Oil-based cleansers: all skin types, including oily skin. Oily cleansers maintain the skin's natural oil and keep the complexion balanced.
Richer textures like balms or creams are indicated to remove heavy oil-based make-up
Bi-phase lotions (water in oil) are ideal to dissolve and remove mascara from the eyes and avoid puffiness and dryness
Cleansing wipes:
If you need to clean your skin quickly, without having to wash your face, then cleansing wipes could be suitable for you, but only in extreme situations. Face wipes are harsh on the skin, because they contain strong, drying ingredients. It is better to avoid face wipes, if your skin is sensitive.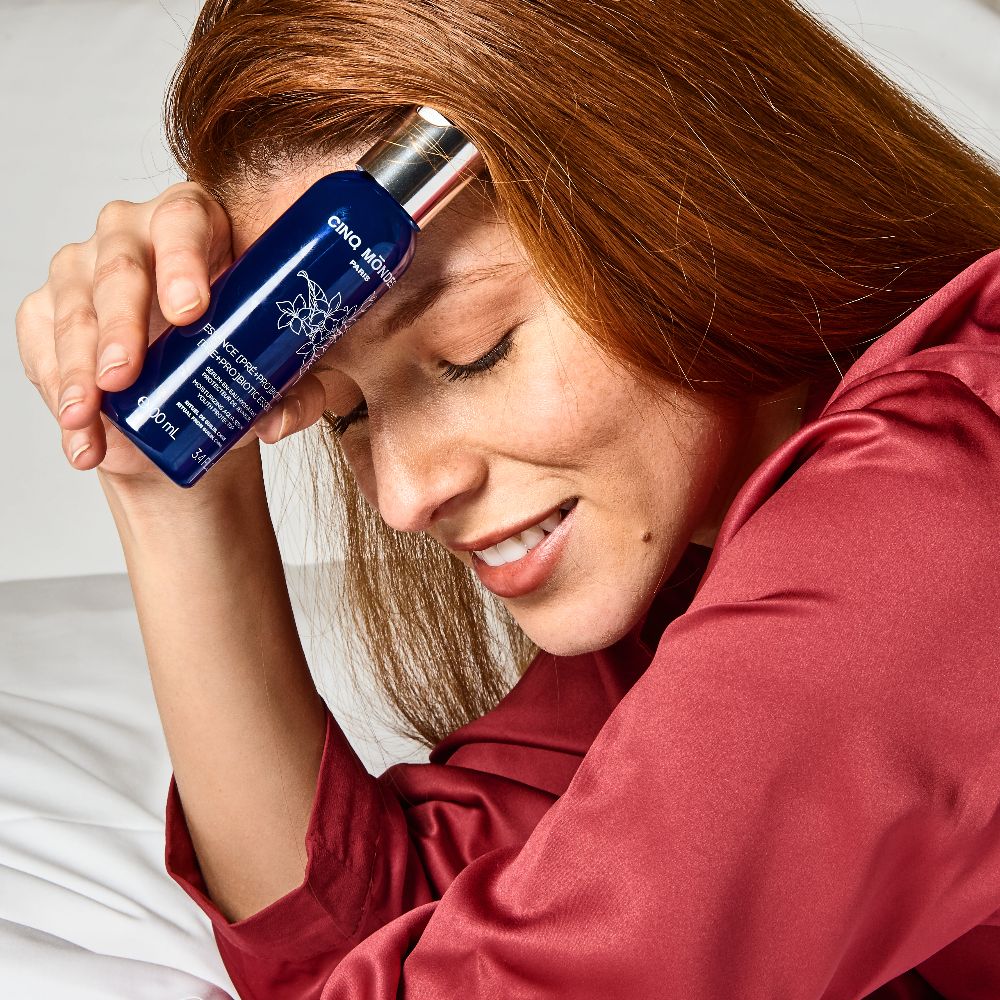 Soaps:
Not suitable for anyone! It can dry-up the skin and cause irritations.

After make-up removal and in-depth cleansing of the pores, skin needs balancing: this is the function of toners, or toning lotions that balance the skin. For example, Flowers Rain Tonic by Cinq Mondes or as 2-in-1 [Pre+Pro] biotic Essence® which can be used: as post-cleansing, to re-balance your microbiotics after damage from external sources (pollution, oxidative stress, etc.); or during pre-care, to prepare the skin and ensure it gets the most from your additional care products.

Then everyday cleansing can be perfected through a weekly routine:
Exfoliating: choose a mechanical or enzymatic exfoliator, depending on the sensitivity of the skin
Purifying mask to unclog the pores and generally use different sorts of clays (white, red, green, black) and seaweeds
Finally there is post-cleansing step which is a new trend from Asia and involves the use of different kinds of lotions prior to the application of treatment products:
Hydrating lotions with pre and probiotics like [Pre+Pro] biotic Essence®
Exfoliating lotions to reveal brightness like Phyto-Peeling lotion by Cinq Mondes
Primer lotions to smooth-out the skin and bring an even tone
Related products
Related Posts